Rezension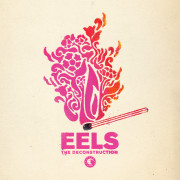 Eels
The Deconstruction
Highlights:
Premonition // Today Is The Day // Sweet Scorched Earth // There I Said It // In Our Cathedral
Genre:
Indie-Rock // Singer-Songwriter
Sounds Like:
Beck // Ryan Adams // Belle & Sebastian
VÖ:
06.04.2018
Wer etwas dekonstruieren will, muss zunächst etwas erbaut haben. Im Falle Mark Oliver "E" Everetts ist das Bauwerk eine immense, bereits vor "The Deconstruction" elf Alben umfassende Diskographie, auf dessen Entstehungsweg E immer wieder spiralenförmig zwischen sonnigem Indie-Pop, Kratzrock, Songwriterfolk und skizzenhaften Chorälen hin- und herschritt. Auf "The Deconstruction" dekonstruiert er diese Herangehensweise weniger, als dass er sie verknüpft.
Denn auch auf dem Album, das das Dutzend voll macht, weicht Everett von diesem Schema kaum ab und lässt bereits die drei Vorabsingles fast das komplette Feld seiner Songwritingkunst beackern: Das gräulich wummernde "Bone Dry", das in Sunshine-Pop gepresste Carpe Diem "Today Is The Day" und die so todtraurige wie hoffnungsvolle Ballade "The Premonition". Musikalisch erkennt man kaum, dass zwischen "The Deconstruction" und seinem Vorgänger "The Cautionary Tales Of Mark Oliver Everett" so viel Zeit vergangen ist wie sonst kaum zwischen zwei Eels-Alben – nur die erfolgreiche Familiengründung in der Zwischenzeit schlägt sich im Schlaflied "Archie Goodnight" und allgemein einem eher positiven Ton nieder.

Zumindest zeigt "The Deconstruction" jedoch deutlich, wie viel Material E in den vier Jahren seit seinen "Cautionary Tales" gesammelt hat. Oder, anders gesagt: "The Deconstruction" wirkt nicht nur stellenweise etwas unorganisch. Es fühlt sich mit seinen 15 Tracks oft schlicht und einfach zu lang an – und das, obwohl einige Songs keine Minute dauern und wohl eher als kurze Zwischenspiele konzipiert sind. So setzt E mit dem zwölften Album vorrangig einen weiteren Ziegelstein auf das Bauwerk seines Schaffens. Eine Dekonstruktion sieht anders aus.
Sehen
Video zu "Bone Dry"

Video zu "Today Is The Day"

Diskutieren
Lesen
Weitersagen
Finden
Rezensionen vergangener Wochen
Alles gelesen? Guck doch mal in unserem
Textarchiv
vorbei, dort gibt es fast 5000 Rezensionen und mehr als 400 Konzertberichte und Interviews.