Rezension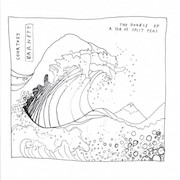 Courtney Barnett
The Double EP: A Sea Of Split Peas
Highlights:
Avant Gardener // History Eraser // Scotty Says // Canned Tomatoes (Whole)
Genre:
Slacker-Pop // Garage-Rock
Sounds Like:
Pavement // Built To Spill // Sharon Van Etten // Nirvana
VÖ:
06.06.2014

Ganz am Anfang war der Song. "Avant Gardener" rückte Courtney Barnett in diesem Frühjahr schlagartig in den Radar der Independent-Affinen. Ein Slacker-Pop-Song, wie er so lässig nicht mehr seit Pavements Auflösung dahergekommen war, mit tief vorantreibendem Bass und scheinbar endlos vielen Strophen. Textlich im Wortwitz der Alltagsbeobachtungen kaum zu überbieten ("It's a monday // it's so mundane // what exciting things will happen today?"). Das ganze von einer 26-jährigen, unscheinbar-lässigen Australierin, die ihre Musik einfach mal so durch ihr eigenes Label "Milk Records" unter die Leute bringt, die Cover selbst zeichnet und nur so vor schrägen Ideen sprudelt.

"A Sea Of Split Peas" ist eine Doppel-EP, bestehend aus zwei einzelnen EPs: "I've Got A Friend Called Emily Ferris" aus dem Jahre 2012, und "How To Carve A Carrot Into A Rose" aus dem Jahre 2013. Für den internationalen Release wurden diese der Einfachheit halber zusammengefügt. Die neuere EP bildet die erste Hälfte der Doppel-EP, elegant der Auftakt mit "Out Of The Woodwork". Eine melancholische, klavierlastige Ballade, die gen Ende hin immer mehr ausbricht und sich schließlich selbst zerlegt. Courtney singt gelangweilt und beiläufig ihre Alltagsbeobachtungen hinunter, für "History Eraser" hatte sie angeblich an die fünfzig Strophen und musste dann streichen. So kann es kommen, wenn man seine Texte kontinuierlich mit dem Notizbuch in der Tasche niederschreibt.

Die zweite EP klingt etwas rauer, weniger opulent, weniger nach Folk Noir, mehr nach Garagenrock. "Scotty Says" markiert das Highlight dieser Seite, ein cooler Garage-Rock-Song mit Popappeal. Spannend ist, dass die Doppel-EP weniger wie zwei lose EPs denn wie ein Album mit zwei Seiten wirkt. Der Do-It-Yourself-Charme Courtneys, ihre schräge, schummrige Welt, in die sie den Hörer wortgewandt und geistreich entführt, bilden den roten Faden für "A Sea Of Split Peas". Und sie machen gespannt auf das erste "richtige" Album Courtneys, welches uns 2015 erwartet.
Sehen
Video zu "Avant Gardener" anschauen

Video zu "History Eraser" anschauen

Video zu "Scotty Says" anschauen

Video zu "Anonymous Club" anschauen

Diskutieren
Lesen
Weitersagen
Finden
Rezensionen vergangener Wochen
Alles gelesen? Guck doch mal in unserem
Textarchiv
vorbei, dort gibt es fast 5000 Rezensionen und mehr als 400 Konzertberichte und Interviews.