Rezension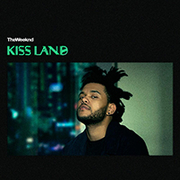 The Weeknd
Kiss Land
Highlights:
Professional // Love In The Sky // Adaption
Genre:
Pop // R'n'B // Elektro
Sounds Like:
Michael Jackson // Justin Timberlake // James Blake
VÖ:
06.09.2013
Mit gleich drei als Mixtapes bezeichneten Alben machte der Kanadier Abel Tesfaye 2011 auf sich aufmerksam. Nachdem er sie zuerst per Download auf seiner Webseite zur Verfügung stellte, kamen bald Labels auf den jungen Künstler zu, um die Werke noch einmal physisch zu veröffentlichen. Das nun erscheinende "Kiss Land" kommt nun direkt bei einem Major raus und setzt den Stil der "Trilogy" fort.
Der Stil Tesfayes ist irgendwo zwischen Pop, R'n'B und Elektro. Dass die Songs dabei aber wenig clubkompatibel sind, sondern sich vor allem zum heimischen Genuss eignen, liegt vor allem am Gesang. Der Sound von The Weeknd ist dicht, meist recht schleppend und eindringlich – dazu neigt Tesfaye dazu, viel zu leiden, sei es als Liebeslied oder wenn er von Verflossenen schwärmt. Von der Stimmlage her kann man Parallelen zu Michael Jackson erkennen und so falsch liegt man gar nicht, würde man The Weeknd als die heutige Reinkarnation der Sounds des Königs des Pop interpretieren. The Weeknd mischt den Beat von Portisheads "Machine Gun" unter seinen Sound oder bedient sich Gitarrensoli der 80er.
"Kiss Land" zündet langsamer als seine Vorgänger. Es braucht einige Durchgänge, um die vielen kleinen versteckten Anspielungen oder Melodiebögen zu erkennen, wie etwa im Refrain von "Professional", einem der Highlights des Albums. Den einzigen Ausrutscher bildet "Live For", dessen Rapstil zusammen mit Drake so gar nicht zum Rest des Albums passen will. Skippt man dieses, ist "Kiss Land" eine runde Popscheibe, die den Bekanntheitsgrad von The Weeknd weiter ausbauen wird.
Hören
Video zu "Kiss Land"

Diskutieren
Lesen
Weitersagen
Finden
Rezensionen vergangener Wochen
Alles gelesen? Guck doch mal in unserem
Textarchiv
vorbei, dort gibt es fast 5000 Rezensionen und mehr als 400 Konzertberichte und Interviews.