Rezension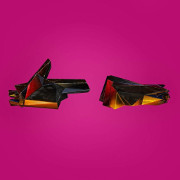 Run The Jewels
RTJ4
Highlights:
Yankee And The Brave // Holy Calamafuck // Ju$t // Walking In The Snow // A Few Words For The Firing Squad (Radiation)
Genre:
Rap
Sounds Like:
Mobb Deep // Techno Aninmal // Saul Williams
VÖ:
05.06.2020

Auf RTJ4 gibt es eine halbe Stunde Realtalk. Das Rap-Duo Run the Jewels setzt mit seinem vierten Album einen brachialen Gegenpol zu inhaltsleerem Trap und protziger Statussymbolik. Zwei Tage vor dem offiziellen Erscheinungsdatum veröffentlichen sie ihr Werk und bieten – natürlich – einen kostenlosen Download an. Obwohl die Urgesteine seit Jahren gegen Polizeigewalt, Rassismus und Unterdrückung kämpfen, klingen sie vor dem Hintergrund der derzeitigen Protestwelle aktueller denn je.

Vor allem wegen der Lines in "Walking In The Snow": "And you so numb, you watch the cops choke out a man like me // Until my voice goes from a shriek to whisper, 'I can't breathe' // And you sit there in the house on couch and watch it on TV // The most you give's a Twitter rant and call it a tragedy". Die beziehen sich zwar auf den Tod von Eric Garner (2014) und nicht auf George Floyd, aber tragischerweise sind sie heute genauso aktuell wie vor sechs Jahren.

Die Auswahl der Features zeigt, in welche Richtung es musikalisch geht: Gangsta Boo sorgt für Gangster Rap. DJ Premier steht für Oldschool Beats. Pharrell Williams macht Hymnen. Zack De La Rocha schreit und Josh Homme bringt den (Gitarren-)Lärm. Die Länge des Albums ist genau richtig. Kein Füllwerk, dafür durchgehend Banger. Nicht nur musikalisch überzeugt das Album, sondern auch durch die mit Anspielungen, Wortspielen und einprägsamen Lines gespickten Lyrics. RTJ4 kann man nicht nur einmal hören. Ihre Mission, die schwere Lage erträglicher zu machen, haben Run the Jewels mehr als eingelöst. Danke!
Sehen
Run The Jewels "Ooh LA LA" feat. Greg Nice & DJ Premier

Run The Jewels - walking in the snow

Diskutieren
Lesen
Weitersagen
Finden
Rezensionen vergangener Wochen
Alles gelesen? Guck doch mal in unserem
Textarchiv
vorbei, dort gibt es fast 5000 Rezensionen und mehr als 400 Konzertberichte und Interviews.