Rezension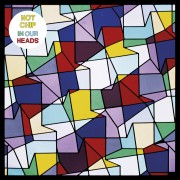 Hot Chip
In Our Heads
Highlights:
Motion Sickness // Look At Where We Are // These Chains // Flutes // Ends Of The Earth
Genre:
Soulpop // Elektropop
Sounds Like:
Hercules & The Love Affair // LCD Soundsystem // Friendly Fires
VÖ:
08.06.2012
Mit der Frage, was eigentlich in unseren Köpfen so vor sich geht, befassen sich Hot Chip mit ihrem fünften Album. Vom harmlosen "How do you do" über "Don't Deny Your Heart" und "Now There Is Nothing" – schon die Songtitel verraten, welche Sorgen und Ratschläge das Londoner Quintett mit den Fans teilen möchte. Große Mühe gibt sich die Band dabei natürlich auch wieder, melodiös zwischen vertrackten Experimenten und möglichst großer Erreichbarkeit zu schwanken.
Der Opener "Motion Sickness" ist wie geschaffen für jene Radiosender, die nicht nur "das Beste der 70er, 80er und 90er" spielen. Ein wunderbarer Refrain, "catchy hooklines" und ein irres Flirren und Flirten mit sommerlichen Keyboardmelodien. Der Text dazu mag melancholisch sein, dennoch wirkt das Stück ungemein positiv. "How Do You Do" fährt das bekannte Schema eines typischen Hot-Chip-Dancefloor-Songs. Relativ schnell, einprägsam und mit Takten, die auch die ungeübtesten noch mittanzen können. Eine große Schwäche der Fünf ist jedoch der Hang zu Übertreibungen. Beste Beispiele auf "In Our Heads" sind "Don't Deny Your Heart" oder "Always Been Your Love", die zu cheesy, zu softpornohaft daherkommen. Schmieriger Pop gibt sich mit weichgespültem Gesang die Klinke in die Hand.
So richtig weiß man daher bei den Experimenten Hot Chips nie, ob ein Song jetzt unglaublich clever gemacht ist, oder ernsthaft damit spielt, Rick Astley als Referenz zu bekommen. Vielfach gelingt der Ritt auf Messers Schneide, etwa in "Ends Of The Earth". Eine weitere Entwicklung der Band ist die Erkenntnis, sowas wie "Killerrefrains und -beats" nicht mehr sinnlos zu verheizen, wie zum Beispiel bei den abgebrochenen Stücken auf "Made in The Dark". Heraus kommen absolute Highlights wie "Flutes" oder eben "Motion Sickness". Mit "Look At Where We Are" findet sich zudem eine völlig reduzierte Ballade, die zeigt, dass Hot Chip auch dann stark sind, wenn das übliche dicke Korsett aus Synthies, Basslines und Rhythmen einfach mal weggelassen wird.
"In Our Heads" ist ein zwiegespaltenes Album. Auf jedes "hurra, ist das großartig" folgt recht schnell ein "das können die doch nicht ernst meinen?". So ergeben sich zwei ähnlich große Gruppen Perlen und Ausschuss, die diese Platte ausmachen. Bleiben wir beim positiven so lässt sich zusammenfassen, dass mit "Motion Sickness", "Look At Where We Are", "These Chains", "Flutes" und "Ends Of The Earth" einige wunderbare neue Songs entstanden sind.
Diskutieren
Lesen
Weitersagen
Finden
Rezensionen vergangener Wochen
Alles gelesen? Guck doch mal in unserem
Textarchiv
vorbei, dort gibt es fast 5000 Rezensionen und mehr als 400 Konzertberichte und Interviews.