Rezension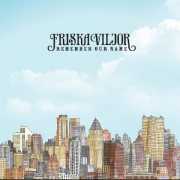 Friska Viljor
Remember Our Name
Highlights:
Bite Your Heart Off // Easy Is Hard
Genre:
Indiepop
Sounds Like:
Peter Björn & John // Mumford & Sons // Mando Diao
VÖ:
18.01.2013
Müsste man Friska Viljor anhand eines Songs beschreiben, wäre es wohl dieser hier:

"Meet me in the crowd, people, people
Throw your love around, love me, love me
Take it into town, happy, happy

Put it in the ground
Where the flowers grow
Gold and silver shine
Shiny happy people holding hands
Shiny happy people holding hands
Shiny happy people laughing"

Wer es noch nicht erkannt hat: "Shiny Happy People" von R.E.M.. Friska Viljor sind so etwas wie der "gute-Laune-Onkel" der Popmusik. Ziemlich egal, ob wir gerade mal wieder Anfang Februar haben und die Sonne dieses Jahr noch nicht einmal richtig rausgekommen ist – die Schweden veröffentlichen "Remember Our Name" und tun so, als wäre Hochsommer. Mit Ukulele, Mehrstimmengesang und einfachen "Did you ever let someone in your heart"- Lyrics erhellen sie recht schnell jeden Raum. Mag die Musik noch so banal, poppig, die Texte aus wenigen einfachen Reimen bestehen – Friska Viljor haben ein Rezept, das aufgeht. Und so finden sich neben vielen Stücken, die sehr nett anzuhören sind, sich aber nach kurzer Zeit abnutzen, auch zwei, drei Hits, die es bis in den Sommer schaffen könnten, "Bite Your Heart Off" zum Beispiel, oder das sehr englisch angehauchte "Easy is Hard". Eher skurril dagegen sind Experimente wie "Boom Boom", dass aus einem Mix der (ganz) frühen Depeche Mode und Computereurotrash aus den 90ern klingt.

"Remember Our Name" reiht sich nahelos in die derzeit angesagten Indiepopalben ein – ein bisschen Mumford & Sons hier, eine nachdenkliche Quotenballade für die Folkfans ("I'm Not Done") und natürlich die Flower Power nicht vergessen ("Streetlights"). Friska Viljor tanzen auf vielen Hochzeiten und bringen zu jeder ein kleines Geschenk mit. Ein solches Album schon so früh veröffentlichen – ein cleverer Schachzug, denn knapp vier Monate hat "Remember Our Name" nun, bis die Festivals anstehen – und bis dahin bleibt genug Zeit, schon einmal die "lalala"-Chöre von "Until The End" einzuüben – und dann gilt: "Meet me in the crowd…"
Diskutieren
Lesen
Weitersagen
Finden
Rezensionen vergangener Wochen
Alles gelesen? Guck doch mal in unserem
Textarchiv
vorbei, dort gibt es fast 5000 Rezensionen und mehr als 400 Konzertberichte und Interviews.